'Chronicle of a Fall' depicts the fragmented, in-transit, experience of a group of immigrant cultural workers scattered around the contemporary US. Paying homage to the classic 'Chronicle of a Summer,' the project updates the Cinema Verité approach using emerging technologies such as parallel body worn cameras, volumetric capture, and projection mapping.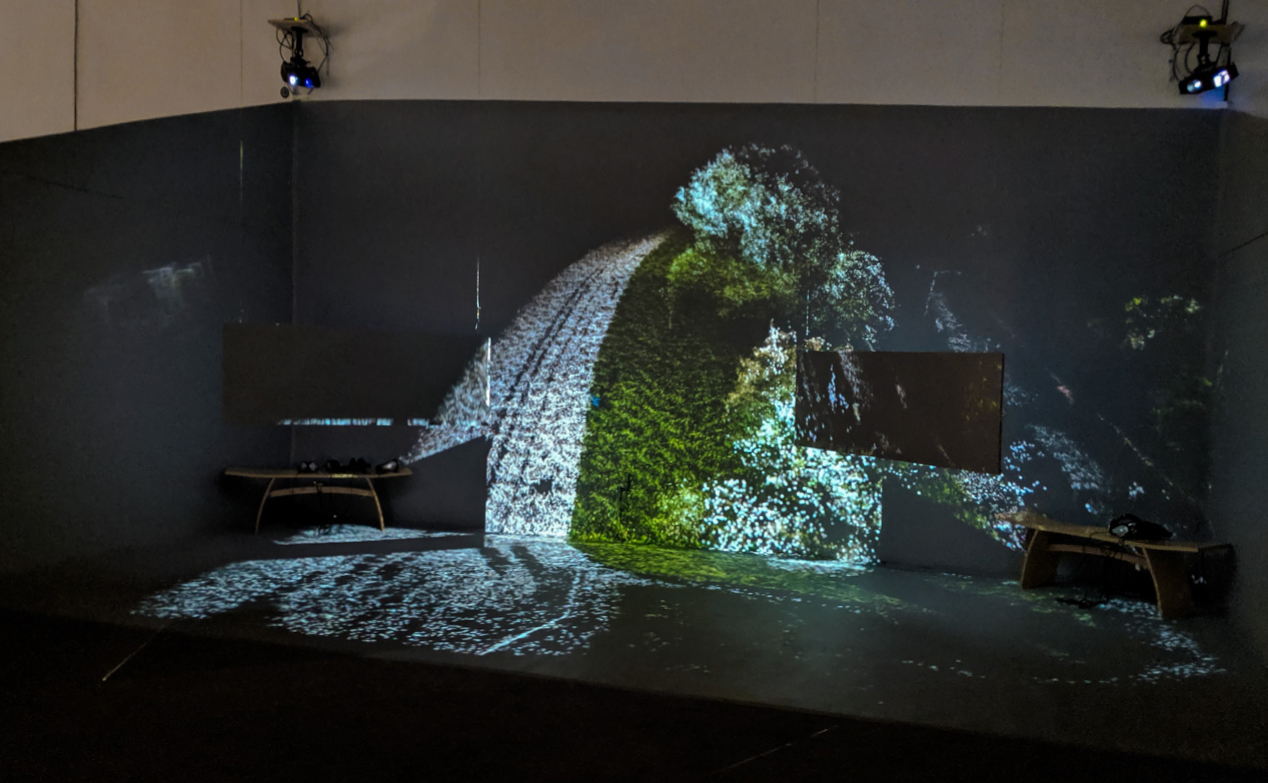 Documentation images of work-in-progress installation, Currents, Santa Fe, June 2019
Synopsis
'Chronicle of a Fall' is a three-fold project consisting of a feature-length experimental documentary, an immersive installation, and a 360 VR experience. The project is currently still in production, with an initial work-in-progress installation version first shown in June 2019.
The piece loosely applies Verité classic 'Chronicle of a Summer' to contemporary U.S. as we look into the lives of a group of cultural producers, primarily from the Middle-East and Central America, who negotiate ideas like "home" and "happiness" in an increasingly precarious social/political landscape. The participants of 'Chronicle of a Summer', a 1960s documentary, discuss France which, while recovering from WW2, is on the brink of war and undergoing social change. The term "Cinema Verité" was coined by the film's director to describe a truth generated by the camera rather than found outside it. Our project, 'Chronicle of a Fall', deals with the experiences of a group of immigrant cultural workers scattered around the US, as they react to symptoms of the country's social/political changes following the 2016 Fall elections.
Like 'Chronicle of a Summer', our film begins with a simple question: "What is home to you?" Our participants, all immigrants or immigrant born, exist in a liminal state. Many, including ourselves, have left one country in which democracy is cast in shadow for the US, only to find it too cast in a shadow of its own making. As in 'Chronicle of a Summer', our participants interview each other, gather for dinner, work, or wander with only the filmmakers as company. In our project, however, we confront a period in which electronic media itself has become a space to be navigated, a nonplace in which our protagonists are immersed, often experiencing two places at once, or one place from multiple perspectives. Our participants exist between homes. To reflect the fractured nature of their experience, and provide an intimate insight into their daily lives, they are all equipped with body-cameras.
In order to create a connective space between their stories/viewpoints that is similarly fragmented and in transit, we capture their areas of belonging, whether indoors or outside. To this end, we make use of an architectural laser-scanner that converts places into 3D "point-clouds." Within the installation version of 'Chronicle of a Fall', the first-person, multiple-viewpoint videos are projected on the back of screens hanging from above. Around them, in the larger exhibition space, visitors are immersed in the semi-abstract, intertwined, and constantly slipping 3D scans and soundscapes of the participants' homes. The latter create a world that envelopes and conceals the more intimate POV stories of love, loss, and longing.
Team & Contact
Nadav Assor, Co-Producer, Co-Director
For over 10 years, Assor has performed and exhibited work including short films, immersive installations, kinetic sculpture, and live audiovisual performances in festivals, museums and galleries around the world. Recent venues for his work include Hong-Gah Museum Taipei, Centre Arts Santa Monica Barcelona, Oberhausen Festival, Impakt Festival, Arsenal Berlin, Edith-Russ-Haus, Fridman Gallery NY, Transmediale, European Media Arts Festival, Soundwave Biennial SF, Hyde Park Art Center Chicago, and Koffler Center Toronto. Assor is a 2019-2020 Fellow at the MIT Open Documentary Lab.
Tirtza Even, Co-Producer, Co-Director
A documentary maker and video artist, Even has produced linear and interactive video work that has been shown at the Museum of Modern Art, NY, at the Whitney Biennial, the Johannesburg Biennial, as well as in many galleries, museums and festivals in the U.S., Israel and Europe. Her work won numerous awards, including 3ARTs Award, Fledgling Fund, Artadia Award, Golden Gate Awards Certificate of Merit, SF International Film Festival, Jerome Foundation and NYSCA, and has been purchased for the permanent collection of the Museum of Modern Art (NY), the Jewish Museum (NY), the Israel Museum (Jerusalem).
Stefan Oliveira-Pita, Editor
Born 1983. Film Editor, Lecturer. Diploma at Film University Konrad Wolf, Potsdam. Since 2009 Oliveira-Pita has carried out numerous collaborations on international features, documentaries and art installation works. Selections include: Atlas (German Film Award Nominee), Furusato (Golden Dove), Lamento (First Steps Award), Portraits of German Alcoholics (Prix Dialogue Berlinale), Civil Servants (Grimme Award Nominee), Only a Day (German Film Critics Award), Family Business (NRW Film Award). Since 2014 he has been a lecturer at DFFB, Bauhaus Uni Weimar, HS Mainz. Alumni of Berlinale Talents 2016. His work has won the best Editing Award for Lamento at Sehsüchte 2014. Oliveira-Pita lives and works in Berlin.